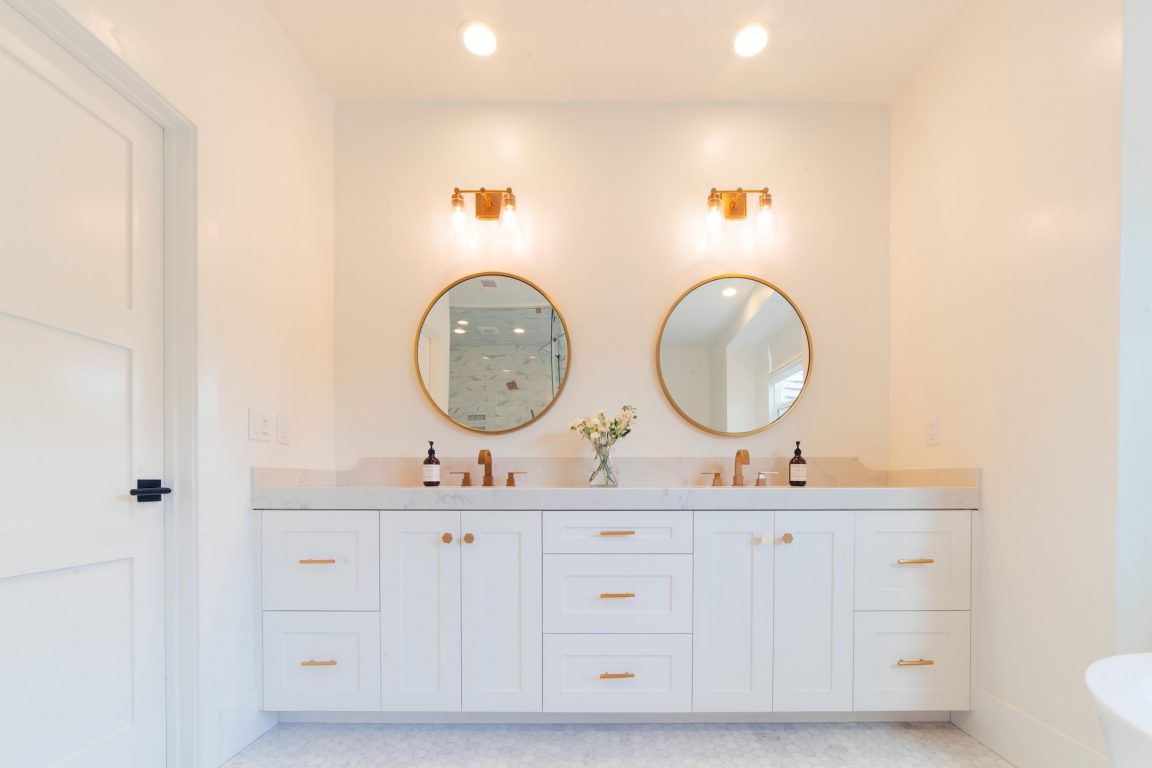 Kitchen is a major hub where you always want to be careful about trendy choices. The last thing that you want is a kitchen that stands out best simply because you chose to follow a kitchen trend.
Kitchen fads come and go, but when it comes to enduring value, white kitchen is by far the best. Why?
White kitchens are trend safe and provide a good foundation. According to Mick de Duilio an award-winning designer, he said white is so far the best color for kitchens (all-time most popular color for kitchen finishes) because of these two words; fresh and clean. Therefore, a great kitchen is described by these two words-fresh and clean. But what is so great about white kitchens anyways?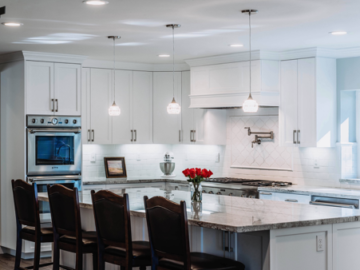 Over the past couple of years, white has been excessively popular for most homeowners and has a healthy history. In the 1920s and 30s, white was the only color that most manufacturers used to offer. White beats them all because it is associated with health and sanitization. Time changes and white's health continues to glow.
Pros and cons for white kitchen cabinets
Pros
There are plenty of reasons why white is the most popular when it comes to kitchen cabinets finishes. Below are some of the reasons;
1.    White offers a classic look that never goes out of style.
White is a classic color that is generally attracted, trusted, and offers good looks. It provides a style that endures through different periods of time. Once you decide to choose white for your cabinet, you are not going to mind if the color will ever go out of date. Your cabinet is going to have an elegant look still even if it is after five years or so. Moreover, this color is customized to work with any home décor.
2.    Versatile
Whether you envision a traditional or modern look elegance, white kitchen cabinets can provide you with the versatility that can adapt every kind of your kitchen design with ease.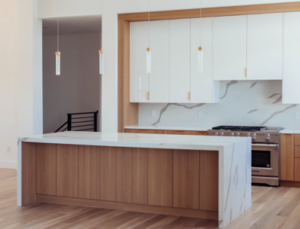 3.    Neutral color
To be neutral, it means white color can be used to serve as either a canvas or a clean background. It is so obvious that neutral colors play well with other colors, and white exceptionally does. On the other hand, if white is paired with other colors, it can add natural contras while softening their appearance.
4.    Enlightening
One of the advantages of having your kitchen cabinet painted white is because of reflectivity. In situations where spaces are dark, white kitchen cabinets are a perfect solution to add luminosity to the room. This means you are potentially going to save electricity. Consequently, a bright kitchen can bring the mood if you want to have a kind of welcoming energy in your room especially when guests are around.
Countertops for white cabinets
While white cabinets have been the most popular cabinet choices for many homeowners, finding the right countertop for your white kitchen cabinet is quite crucial. Read the ultimate guide below to see experts' tips to which countertop colors that can look best with your white kitchen cabinet.
Give your kitchen a contemporary, beautiful and fresh look with Cambria Nevern countertops. It features a compelling palette of creamy browns, taupe and subtle silver that flow altogether.  All these are subjected to one objective- elegance.
One of the benefits of installing never in your kitchen is that they are maintenance-free.  Just wiping it with warm water and soap you are done.
Blue pearl granite features compelling shades of beige, grays, and blues. They are an exceptional option for commercial and residential countertops. Blue pearl granite is one of the countertops you should complement in your white cabinetry.
These types of countertops are designed backsplash that can add marble movement in white kitchen cabinets. They feature a pattern that perfectly matches with white color. This helps in making your kitchen have a modern and aesthetic look. When paired with white cabinetry, it offers a customized surface that creates a majestic yet luxurious feeling around your kitchen.
This countertop offers a beautiful and practical countertop solution that can transcend your expectations. They perfectly coordinate with the white cabinets for a striking contemporary look.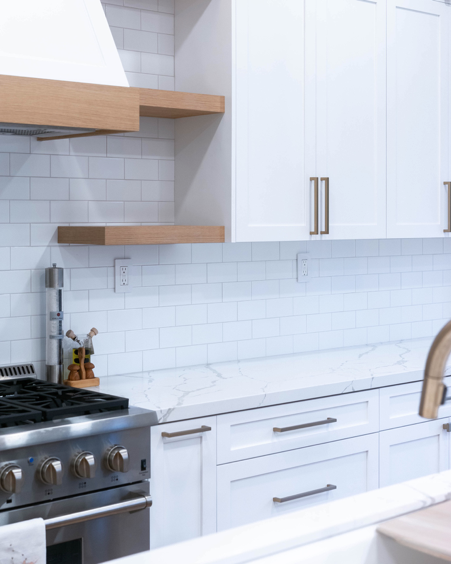 Picking appliances for white cabinets
When designing a kitchen, their lots of things you need to take into consideration.  Right from the countertops to backsplashes, the list is so long. That is not to say that you should ignore appliances. We all need refrigerators and microwaves in our kitchen. But do you understand the impact they can have? If you are wondering which appliance best suits your kitchen cabinet, read the advice below.
White appliances for white kitchen cabinets
As the name suggests, white appliances should only be used in white kitchens. Believe it or not, white goes with white. By this way, you are going to create a unified look within your kitchen. If you use a white appliance with a different cabinet finish, this means your room is going to look outdated.
Black appliances tend to pair well with darker cabinets therefore not suitable to be used in white kitchen cabinets. However, if you want a black and white kitchen, a combination of black and white appliances can work well.
Choosing handle for white cabinets
Choosing the right handle for your kitchen cabinet isn't easy. It is overwhelming and oftentimes a mundane task. The handle you select may speak a lot on how your kitchen will look like. Therefore it is wise to consider the color of your kitchen before you even decide on buying it. For white kitchen cabinets, the options are limitless. Below are some of the handles that can make your white cabinet stylish.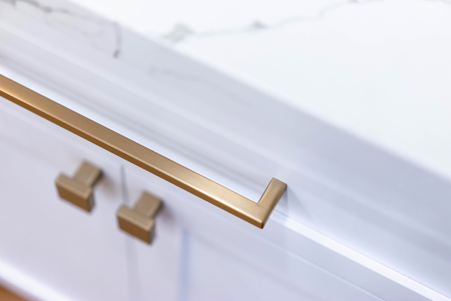 This is one of the classic combinations that have been used before and up to date. Create a fresh look by installing black handles as a great way of making your cabinets not looking tacky and outdated.
These types of handles are new but have taken Pinterest feeds by storm. They can offer your kitchen a striking appearance that you can never imagine.
Yes, putting wood on another wood isn't redundant.  It is one of modest way to bring a midcentury feeling into your kitchen. This lovely cherry wood handles can bring color into your kitchen.
For knick-knacks and flower enthusiasts, here are your favorite agate knobs that can create a stylish kitchen that you have been imagining. They are sleek and simple, well designed to create a new look into your kitchen.
Maintenance for white cabinets 
Of course, white kitchens are strikingly beautiful-that is when they are clean. However, there is something prominent about white kitchen cabinets that almost send us all into a tailspin-dirty and maintenance. These two words can be perhaps the reason why most homeowners tend to be a little skittish about white kitchens.
White kitchens are difficult to clean and maintain, but not anymore now. The following few pointers will help you keep your kitchen sparkling clean.
1.    Protecting the cabinetry and working surface from direct sunlight
Like we said earlier, exposing your cabinet to direct sunlight will cause its laminated surface to turn yellow. For this reason, you are required to install window curtains or have your kitchen window with tinted glass. Doing so means you are going to prevent strong sunlight getting directly into your cabinetry.
2.    Switch on the exhaust fans
It is recommended to turn exhaust fan immediately you start cooking. This helps in preventing grease from accumulating on your cabinets and worktops.
3.    Cleaning cabinets with baking soda and vinegar
Regular kitchen cleanup is essential since it will greatly enhance your enjoyment of space. While there are a lot of cleaning solutions available, the basic way here is to make your own organic solution. Below is a simple way of creating your own cleaning solution;
•    Take two cups of warm, one cup of vinegar and a tablespoon of baking soda.
•    Into the solution, dip a rag and wipe your cupboards. It will be much better if you do this at least once a month.
4.    Removing stains from laminate counters
This is very simple. You are only required to mix home cleaning detergent with baking soda and apply this mixture directly onto stains. Wipe it with a cloth and dry the surface.
Backsplash for white cabinets
Wondering how to make your white cabinets really champ? Use backsplash. They can make your kitchen elegant and more effective. Below are eye-catching backsplashes that are perfectly suitable for white kitchen cabinets.
•    Steel
Steel backsplash is best suitable for modern style kitchen since it is exceptionally functional and easy to maintain. Also, it can be used in contemporary design.
•    Glass
If you want something unique into your kitchen, then the glass is the perfect solution for you. Glass is available in many options, therefore, be sure to find an ideal solution that perfectly matches with your kitchen.
•    White tile
Around these years, kitchen design has become one of the vaunted options. A grand kitchen must have uniformity. In this case, it is wise to choose white tile to match with your white kitchen cabinet. This will provide you with customized cabinetry that is far much boring when compared to others.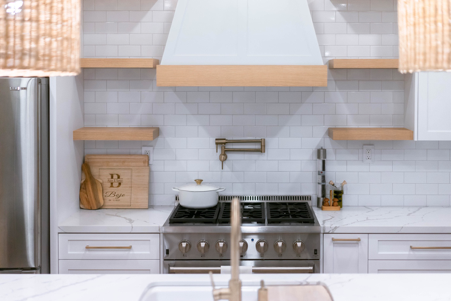 Door style for white cabinets
The style of door you choose will not only set a style to cabinets but also the entire kitchen. Below are supreme doors that can offer a beautiful array of style to work with white kitchen cabinets.
Raised panel cabinet doors
This type of doors has a center that is raised with a contour. They are designed to work well for a traditional look.
Unlike raised cabinet doors, the center of flat panel doors is flat. For those people who prefer sleek designs, this is the perfect choice for you. They are available in a variety of wood species. So, your kitchen is going to be fitted with the right door that perfectly suits it.
Mullion and accent cabinet doors
These types of doors are used as a decorative accent. However, accent cabinet doors are not used throughout the entire kitchen. They are available in different varieties including glass, mullion, aluminum, etc.
Cream or white color for my cabinets
Skeptical about the color you choose for your cabinets? What if you wished to cream than white? It is a fair question for everyone. This one depends on several things; taste and preferences, modernity among many other reasons.
If you may feel that white is too stark for you, opt for cream. If you feel that cream, on the other hand, is exceedingly common, switch to white. All these depend on how you want your kitchen to look like. However, the white color is the most  preferred choice in the 21st century.