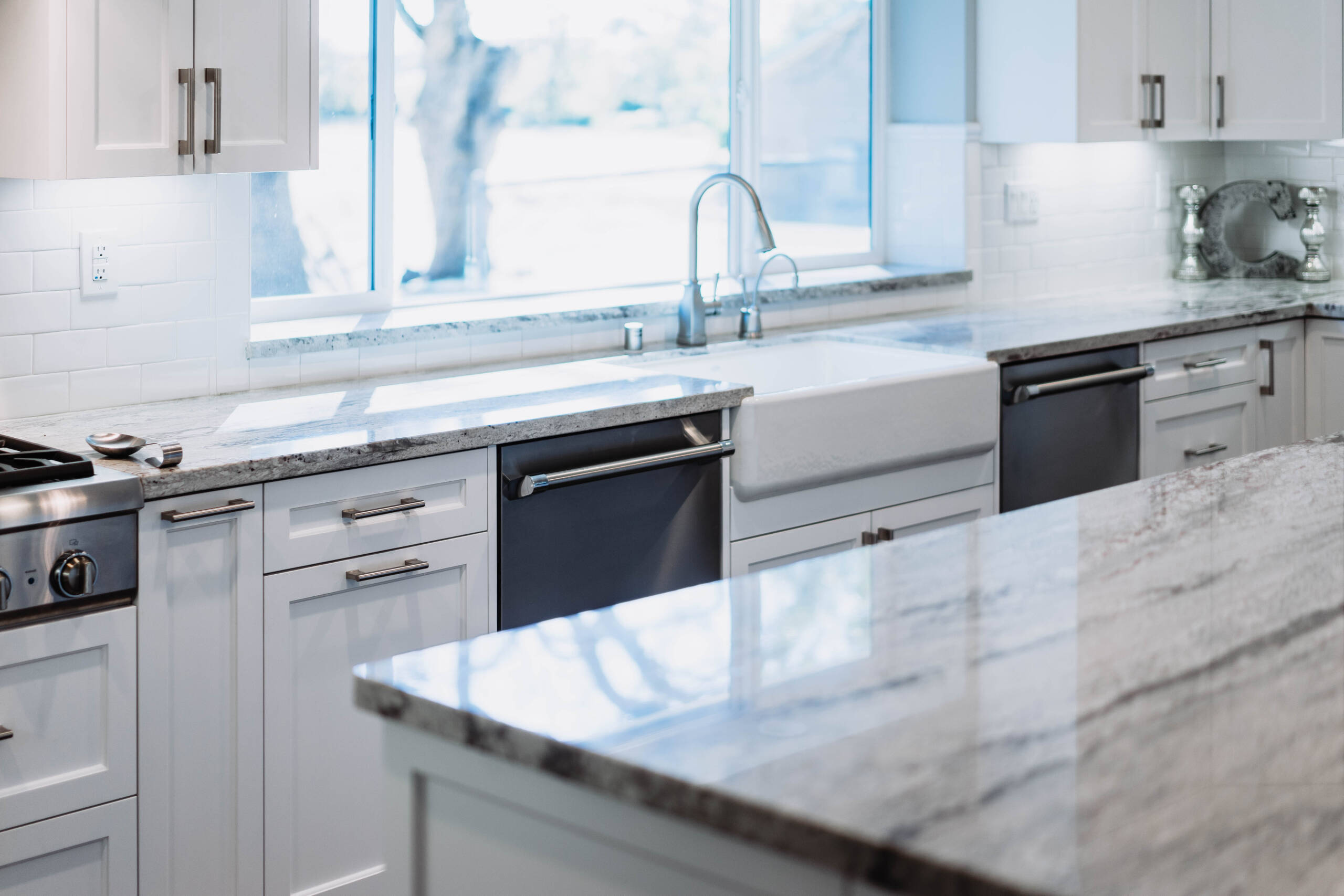 One of the first features that catches the eye in a kitchen is the countertop. However, when it comes time to select a kitchen countertop of your own, there are considerations beyond just the appearance. Choosing the best kitchen countertop material involves weighing factors such as functionality, durability, maintenance, and design style preferences. So, what's the ideal kitchen countertop material for you? It ultimately depends on what makes the most sense for your household, kitchen use, and design preferences.
COMPARING KITCHEN COUNTERTOP OPTIONS
Quartz, granite, and Corian® solid surfaces offer a wide range of choices in terms of shapes and sizes to accommodate almost any kitchen space. Each material brings different benefits in terms of appearance, durability, maintenance, and overall value.
KITCHEN COUNTERTOP APPEARANCE
Corian solid surface, crafted from a combination of natural minerals and pure acrylic polymer, wins accolades for its seamless countertop design. It can be installed with no visible seams, creating a sleek and continuous look in your kitchen. Granite takes the crown when it comes to style, with its organic colors and patterns. As a naturally occurring stone, minerals settle into each slab of granite, resulting in a beautifully unique countertop that doubles as a work of art. Both Corian solid surface and quartz offer a wide range of color options, allowing you to choose from playful and vibrant hues, as they are manufactured using man-made pigments and recycled materials.

KITCHEN COUNTERTOP DURABILITY AND MAINTENANCE
Consider how durable your countertop needs to be to withstand your lifestyle and the amount of maintenance you are willing to undertake. Quartz stands out as a clear front-runner in terms of durability. It is virtually indestructible and requires no sealing or special cleaning. Both quartz and Corian solid surfaces are non-porous, stain-resistant, and highly sanitary, making them easy to maintain. Granite is also durable but may be susceptible to cracking, fissures, and staining. Regular sealing is necessary to preserve its beauty and protect it from stains.
SUSTAINABLE KITCHEN COUNTERTOP DESIGN
If eco-friendly materials and design are important to you, let's examine how each countertop material stacks up:
Quartz countertops are renowned for their ultra-durability and are made in the USA. The quartz slabs contain one of Earth's most prolific minerals and often incorporate pre- and post-consumer recycled content. They are designed to last, which is why they come with a lifetime warranty. Opting for quartz ensures you are making a long-lasting and environmentally conscious choice.
Corian solid surfaces are not only durable but also repairable. As they are man-made, they do not require extensive mining for production, making them a more environmentally friendly option. Corian surfaces are also easier to maintain compared to many other materials.
Granite, as a natural product, requires careful mining and transportation to avoid damage, making it the lowest-tier option in terms of sustainability. However, choosing locally sourced granite and opting for remnants or reclaimed slabs can help mitigate its environmental impact.
BUDGET-FRIENDLY KITCHEN COUNTERTOPS
While websites like HomeAdvisor provide national average cost figures, it's important to note that the cost of a kitchen countertop can vary greatly depending on factors such as kitchen size, the presence of an island, and the specific materials, finishes, and thicknesses chosen. The inclusion or exclusion of a backsplash can also influence the overall cost. For a more accurate estimation, it is recommended to obtain a personalized quote for your specific project.
In terms of overall price in today's market, the following comparisons can be made:
Quartz is typically the more expensive option per square foot, but its durability and longevity make it a worthwhile investment.
Corian solid surfaces can vary in cost, but generally speaking, the Private Collection styles that beautifully mimic stone surfaces can be as expensive, or even more expensive, than granite. It's important to note that the cost of Corian can vary depending on the specific style and design chosen.
Granite tends to be the least expensive material of the three options, with the exception of standard, solid-color Corian. However, it's worth considering that the price of granite can vary based on factors such as rarity, origin, and pattern.
It's important to keep in mind that these three countertop materials are not your only options. In recent years, laminate countertops offered by brands like WilsonArt® and Formica® have gained popularity among homeowners due to their affordability, versatility, and improved aesthetics.
Ultimately, the best kitchen countertop material for you will depend on a combination of factors, including your budget, desired aesthetic, durability requirements, and environmental considerations. The variety of options available ensures that you can find the perfect countertop to suit your lifestyle and preferences.
To make an informed decision, consider scheduling a free in-home design consultation with a professional from Gamma Cabinetry. Their expertise can help guide you through the selection process, ensuring you get the most out of your investment.
In conclusion, selecting the best kitchen countertop material is a personal decision that requires careful consideration. By comparing the appearance, durability, maintenance requirements, sustainability, and budgetary factors of options like Corian, quartz, granite, and even laminate, you can find the ideal countertop material that meets your needs and enhances the overall look and functionality of your kitchen.