WHY ARE MODERN CABINETS POPULAR?
Modern cabinets have become increasingly popular over the last several years. It's not hard to see why. Styles for contemporary cabinets are some of the most versatile you can get.
When you think of modern cabinets, you might think of sleek, dark designs paired with stainless steel fixtures in magazines. But modern cabinets come in many materials, colors, and shapes that give any kitchen an impressive look.
European cabinets, also known as frameless cabinets, create a smooth look in your kitchen.
The doors attach directly to each cabinet without a frame underneath, like with American styles.
Modern cabinets have become popular, not only for their polished appearance but for their flexibility. You can go with the angular look, but modern cabinets can come in rounded shapes, custom heights, and with or without handles based on your preference. One of the best parts is that they're quiet and won't slam when you close them—ideal for the occasional midnight snacker.
WHAT MAKES CABINETS LOOK MODERN STYLE?
Certain features shout "modern style" above all others. Some of the most recognizable features of modern style cabinets are the type of material and the detail on the cabinets. For example, old cabinets are often made of oak and have more detailed designs.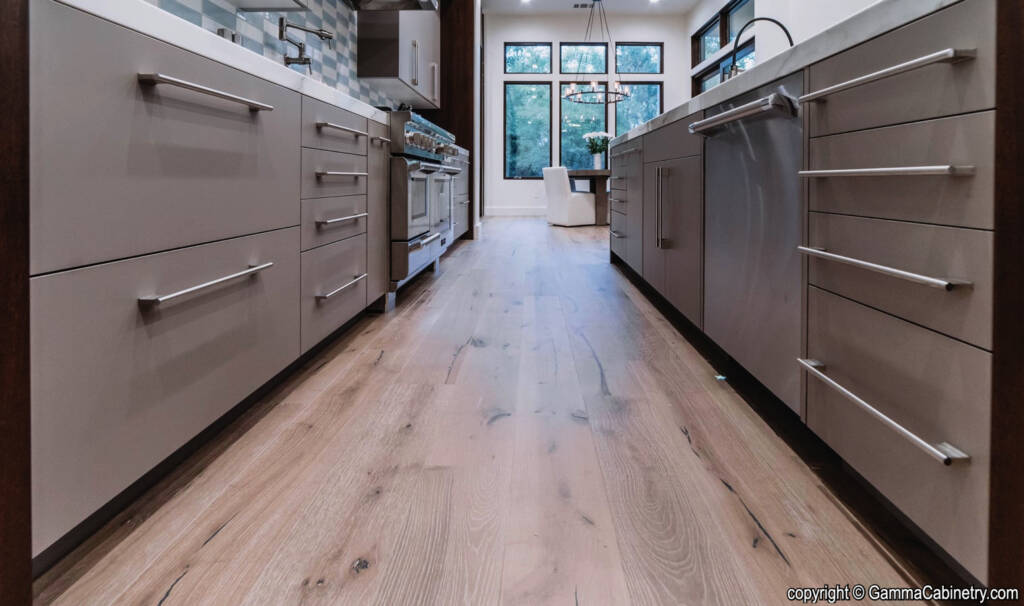 Modern styles are simpler. They come in materials like medium-density fiberboard and stainless steel, making them more durable than older cabinets.
If you want a modern style without redoing your entire kitchen, replacing and refinishing smaller pieces is the way to go. New hardware and paint make a world of difference and give your home that modern style you want. Replacing or refacing your cabinet doors can also create a contemporary look and streamline your kitchen.
If you don't want to do a ton of work on your cabinets, try working with the rest of the kitchen. Updating your lighting or installing a backsplash gives the illusion that you've got modern style cabinets, too.
MATERIALS COMMON IN MODERN KITCHEN CABINETS
Older cabinets used materials like oak and thermofoil. More recently, other, more durable finishes have become available that last for years and make your kitchen look stunning.
Some of the most popular cabinet surfaces are:
Veneer: Veneer is a layer of thin material applied over your cabinet doors. These finishes come in two main types—wood and melamine.
Metal: Metal cabinets are usually stainless steel. They give your kitchen a sharp, sleek look, and they're durable compared to many other cabinet materials.
Glass: Glass cabinets come in many styles, and they're easy to clean. The downside is that they're prone to breaking and may not give you as much privacy as you'd like.
Acrylic: Acrylic is a type of hard plastic, and its glossy appearance can enhance the modern look you want for your kitchen. This material is one of the most durable on the market, and it's waterproof.
Textured Laminate: People often weigh the advantages of laminate against wood, and neither are bad options. Laminate gives the same visual aesthetic as wood. It's also cheaper, though it may not last as long.
TIMELESS COLORS FOR MODERN CABINETRY
Selecting a cabinet color can be even more difficult than choosing a cabinet style. Luckily, there are plenty of custom colors and finishes for modern cabinetry available.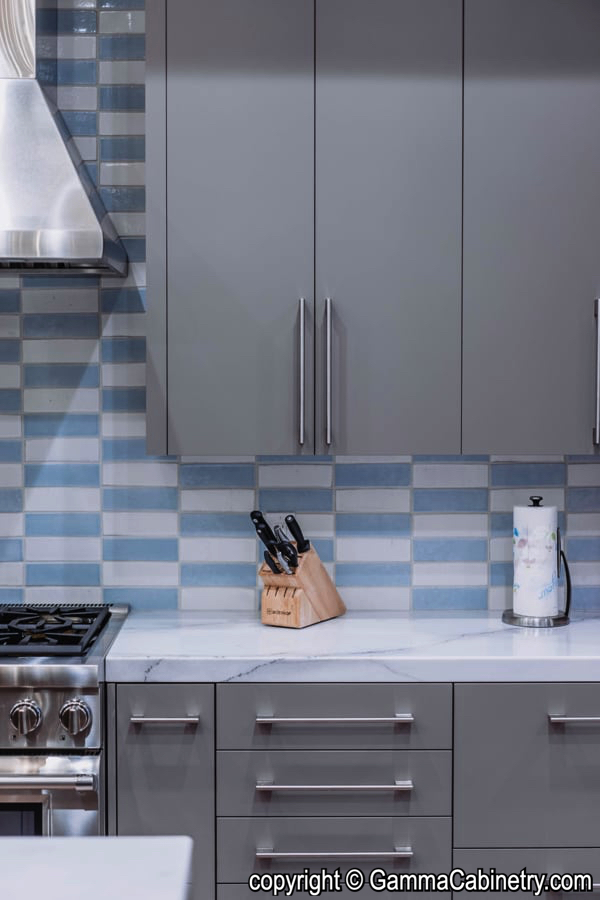 Before you choose your color, consider your cabinet materials as well as the other surfaces in your kitchen. You might consider a neutral color like gray, white, or navy blue, as they pair well with most other colors around your kitchen.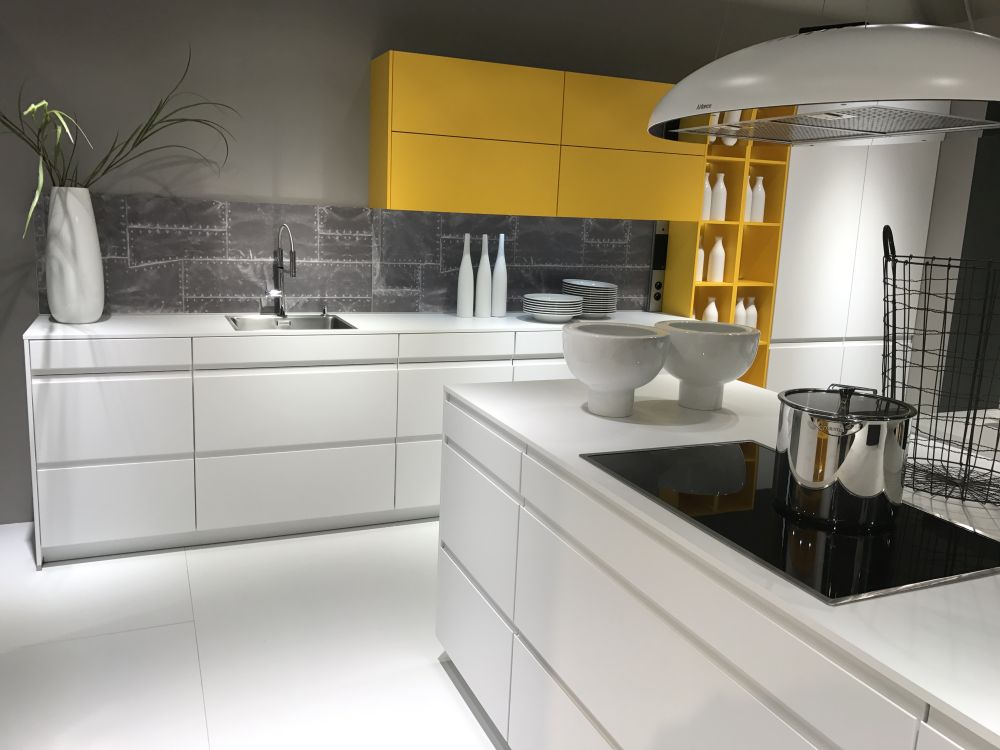 If you want to spice up your kitchen, try yellow, green, or even a soft orange. These finishes beautify your space without sapping its personality. You want to love spending time in your remodeled kitchen, after all.
If you plan on selling your home, an appealing color like these can make your kitchen pop while positively catching buyers' attention.
PRACTICAL BENEFITS OF FRAMELESS CABINET CONSTRUCTION
Most people think of frameless cabinets when they think of modern kitchen designs. Doors attach directly to frameless cabinets, eliminating wasted space between or around them. These styles make your kitchen look clean and polished, but did you know they have practical benefits, too?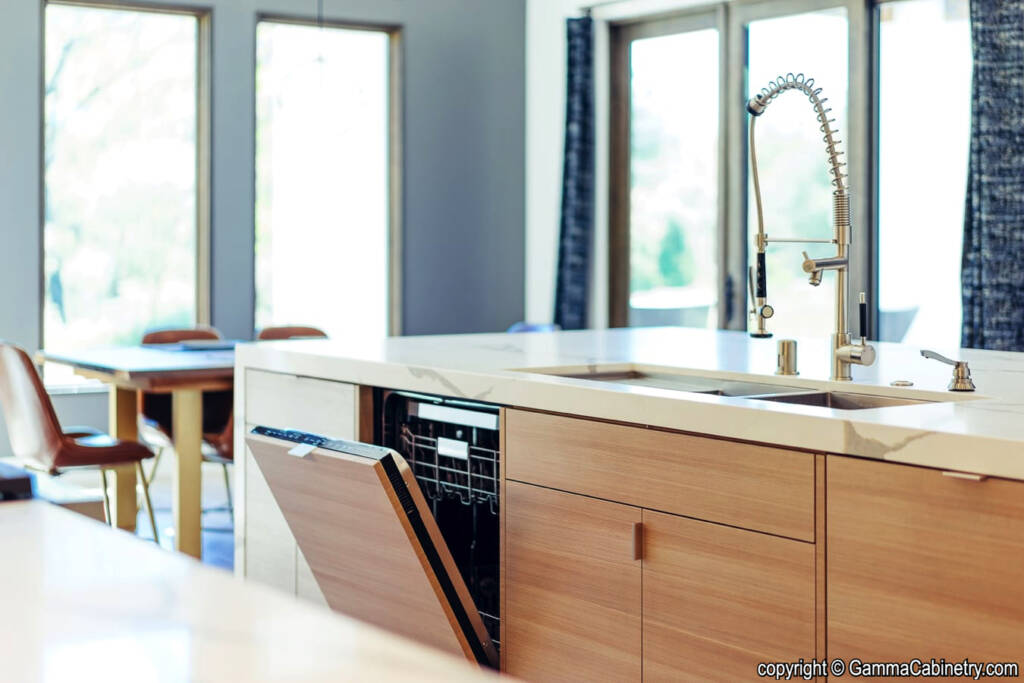 Frameless cabinets give you more storage space in your kitchen without the raised edge of the cabinet frames. Shelving is easier to mount because there's no lip to fit around when installing the shelves. It makes installation quicker so you can use your renovated kitchen sooner.
Lastly, frameless cabinets allow you to keep the doors off entirely. That's why they can also be called full-access cabinets. You have complete freedom with these modern cabinets, allowing you to organize your kitchen how you see fit.
BENEFITS OF LAMINATE KITCHEN CABINETS
Many people face this dilemma: wood or laminate cabinets? Both have their advantages. If you're stuck on which works better for your kitchen, you may want to consider the benefits of laminate cabinets over the long term.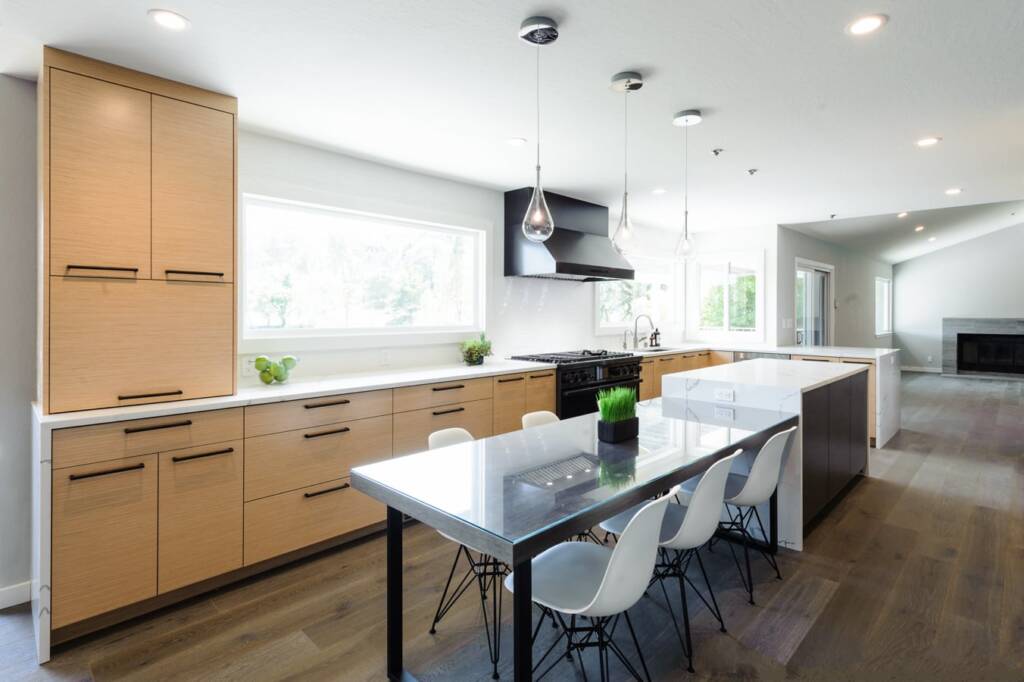 Laminate is one of the most painless cabinet materials to install. You have the option of high-pressure and low-pressure laminate cabinets, too, and the one you choose depends on how durable you need them to be. That said, both stand the test of time, especially if you care for them.
Laminate cabinets are low maintenance and easy to clean, making them a great option in a home with children or pets. If you have a sunny kitchen, laminate cabinets maybe your best option, as they keep their color and won't fade in the sunlight.
If you're looking for a consistent appearance throughout your kitchen, laminate cabinets have some of the most uniform designs on the market without being one solid color.
DRAWERS VS. DOORS
When considering whether you want drawers or doors on your cabinets, first think about cabinet placement and your storage needs. Do you have a lot of pots and pans? Are your cabinets low to the ground?
Cabinet drawer boxes are ideal for low placement cabinets. They're great for storing heavy cookware, so you don't have to reach into the back of the cabinet for your heavy casserole dish.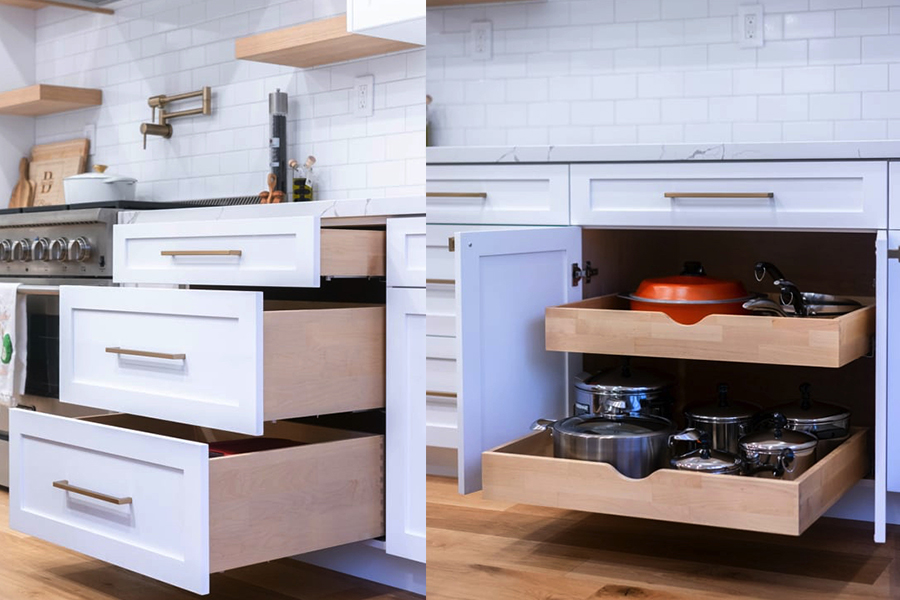 Drawer boxes also give you more space to arrange and store items. They have more organization options, like pegs and separators, to keep all your dishes right where you want them.
That doesn't mean cabinet doors don't have advantages over drawers. Doors are better for high cabinets—after all, how many people can see inside a drawer over their heads? You can, however, use pullout shelves with cabinet doors so that you can store lighter items or small appliances high up.
APPLIANCES THAT WORK WITH MODERN KITCHEN CABINETS
It's not enough to change your cabinets—the rest of your kitchen has to match. That includes your appliances.
Many people praise stainless steel as a style that enhances the modern look. Stainless steel can indeed make your cabinets shine, and it's easier to maintain than other options. But that doesn't mean it's always the best.
Depending on your cabinet color and style, you might find that black or white appliances work better with your new kitchen. Neutral black and white stand out against your bold walls or blend in if you don't want all eyes on your fridge.
Whether you choose brightly colored appliances like a vibrant yellow fridge or a more subtle black microwave, consider how you install them. The flush installation makes your kitchen fit together seamlessly, with designated spaces to fit your new appliances.
HANDLE OPTIONS FOR MODERN KITCHEN CABINETS
Modern handles can add the perfect finishing touch to a surface that would look bland without them. What type of handles should you choose?
One of the most popular materials for modern handles is stainless steel. Because it's so durable and easy to clean, it withstands years of pulling open your drawers and cabinets without losing its shine.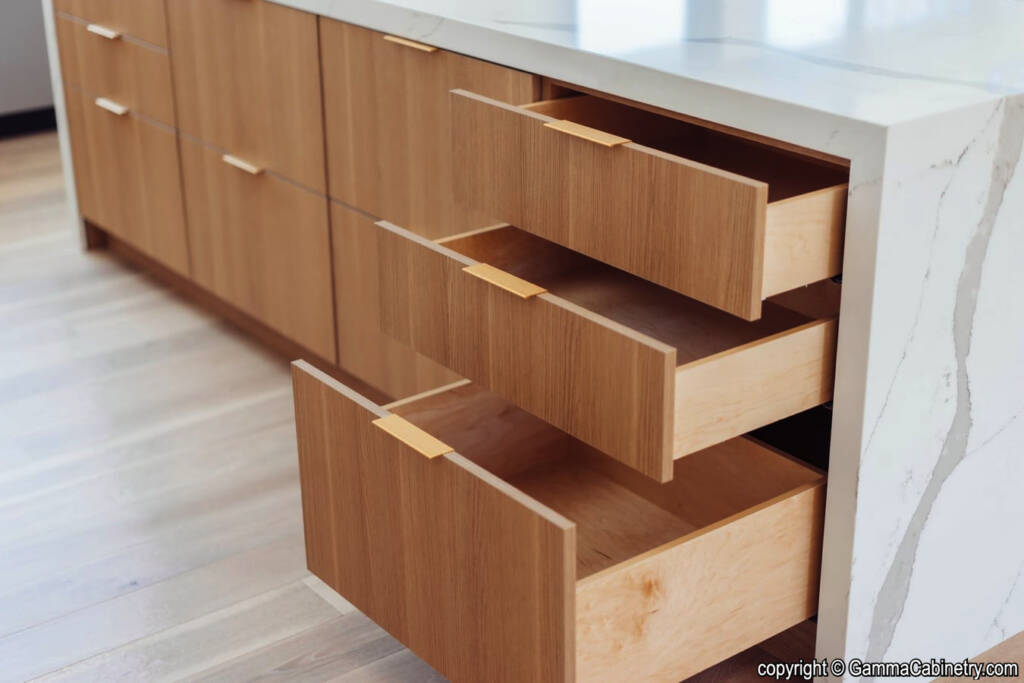 If you like shiny hardware, bronze is a fantastic choice for modern handles. It's adaptable when it comes to style and works well with a variety of colors. If you decide to paint your cabinets in the future, bronze handles mean you probably won't need new hardware.
If you prefer modern handles that don't stick out so much, try black ones. They're classic without making your kitchen feel old or tired. These modern handles give your kitchen a more elegant feel, especially when paired with dark woods.
LOCAL MANUFACTURERS VS. EUROPEAN BIG NAMES
One of the most significant decisions you must make before you start renovating is where you want to get your kitchen cabinets. Should you go with a local shop, or is a European cabinet maker better?
Your choice depends on your preferred style. European manufacturers may be better for frameless cabinets, as they're the most common European style. However, a local manufacturer may mean supporting a local small business and working more closely with the shop.
Local shops have more potential for custom cabinets. Fabricators can better understand the layout of your kitchen and produce cabinets that you can't find in a warehouse.
Local cabinet makers can often offer you the same quality or better than you'll find from big names. They give you the versatility of choosing factory-built cabinets or on-site custom-built cabinets.
No matter what design, color, hardware, or manufacturer you choose, modern cabinets come in endless styles. You'll have a unique kitchen with plenty of opportunities to show off your personality in the most important room in your home.