Welcome to Millwork by Gamma: Crafting Timeless Wood Cabinets and Millwork for Your Sacramento Home
Welcome to our wood shop, where dreams meet design and functionality. Searching for the perfect wood cabinets to enhance your space? Look no further! Our skilled millwork experts specialize in the creation of both classic and modern cabinets, offering an incredible range of custom cabinets tailored to fit your style and needs.
Are you a fan of the timeless elegance of oak cabinets? Or maybe you're looking to spruce up your home with some chic and trendy modern cabinets? At our cabinet shop, we take pride in crafting beautiful cabinetry that resonates with your individuality. Here, woodwork isn't just a profession; it's our passion.
From creative cabinet ideas to the finest wood cabinets you'll ever lay eyes on, our skilled craftsmen provide an experience that's both personalized and exceptional. Millwork has never looked so good or felt so accessible. Our friendly team is here to guide you through the selection process, ensuring that the custom cabinets you choose will become a cherished part of your home.
Whether you're redesigning a kitchen or planning the perfect workspace, our wood shop is your go-to destination for quality and creativity. With years of experience in crafting elegant oak cabinets, innovative modern cabinets, and everything in between, we guarantee that you'll find the perfect fit with us.
Stop by our cabinet shop and explore the endless possibilities. From woodwork to cabinetry, we've got all your needs covered. Let's turn your cabinet ideas into reality and make your space truly yours. Welcome home!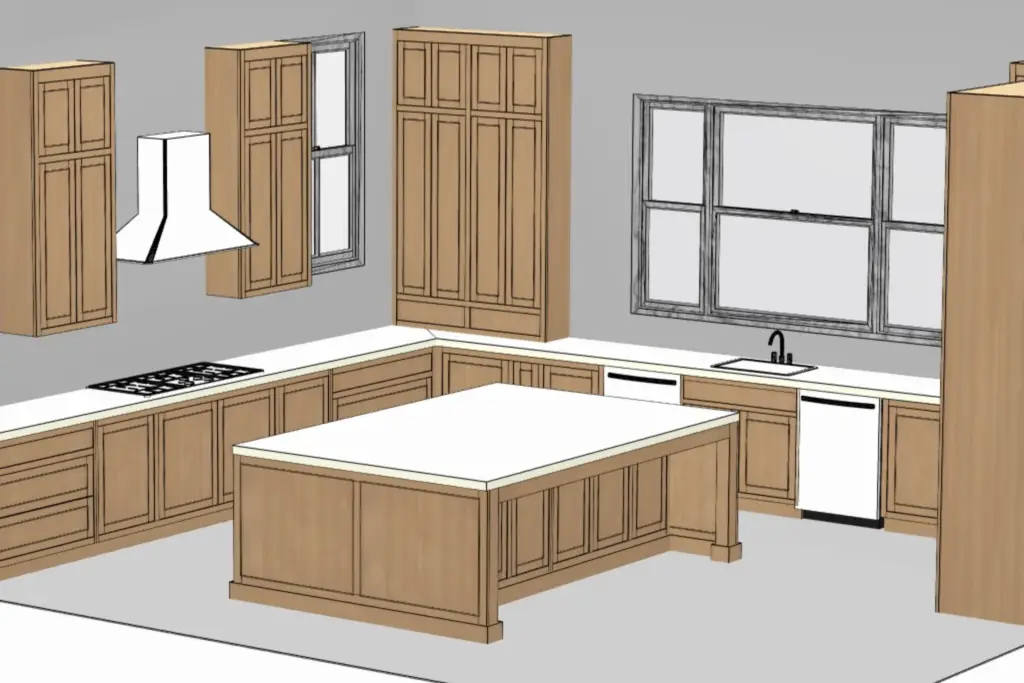 DESIGN
No matter the layout, from a traditional rectangular kitchen to a spacious open-concept design, we at Millwork by Gamma have the skills and creativity to fully furnish it. Our designers and production team masterfully incorporate cabinets and countertops into every nook and cranny, making your kitchen both functional and beautiful. Call our [Sacramento millwork company] to learn more.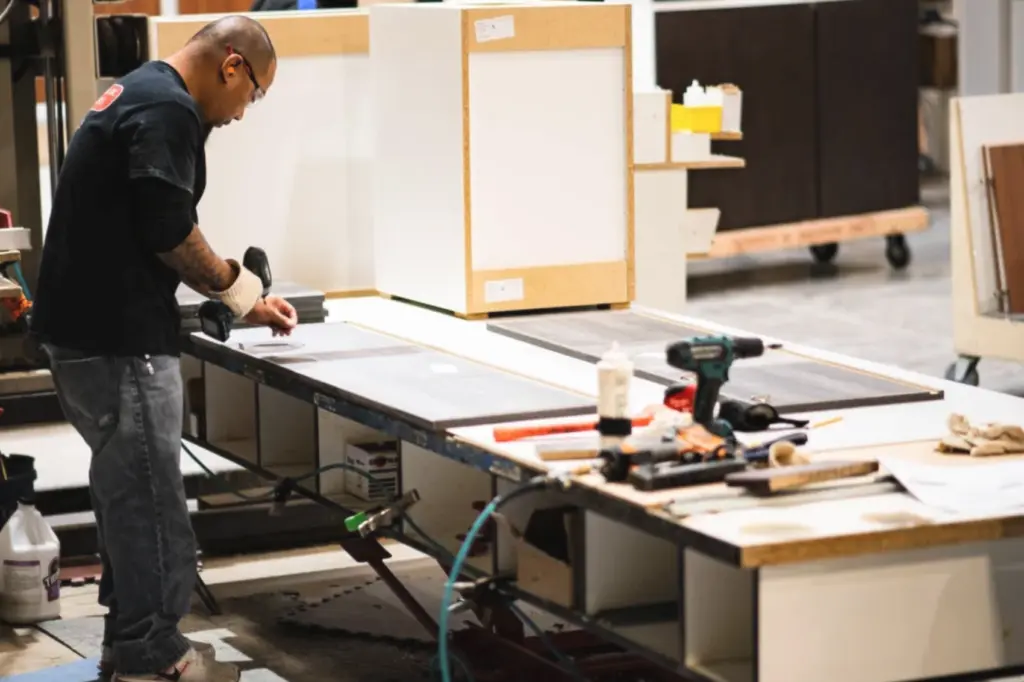 MANUFACTURING
Blending our creativity with your vision, we at Millwork by Gamma choose the right materials, colors, shapes, and configurations, and by stepping into your shoes, we deliver exceptional cabinetry projects that will amaze you every day. Contact our [Sacramento millwork company] today.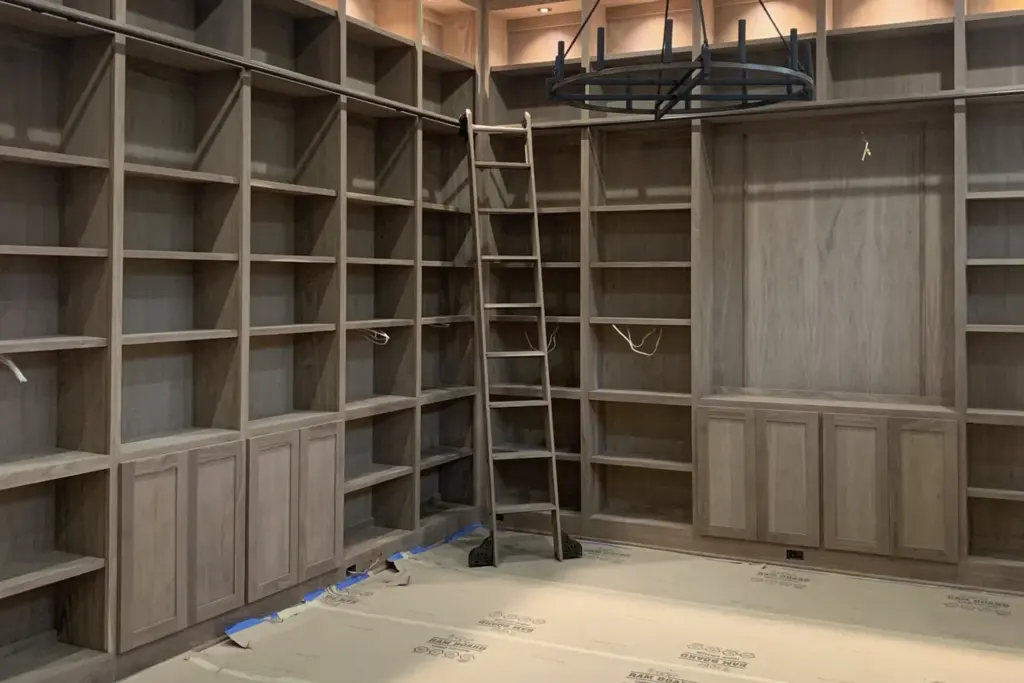 INSTALLATION
Millwork by Gamma specializes in crafting exquisite custom cabinets that enhance your living spaces, using only eco-friendly materials. Our top-tier experts are committed to providing an exclusive, one-time-only design and a perfect installation, seamlessly integrating your new cabinets into your home as if they've always belonged.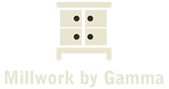 "It takes a lot of effort to make something look effortless!"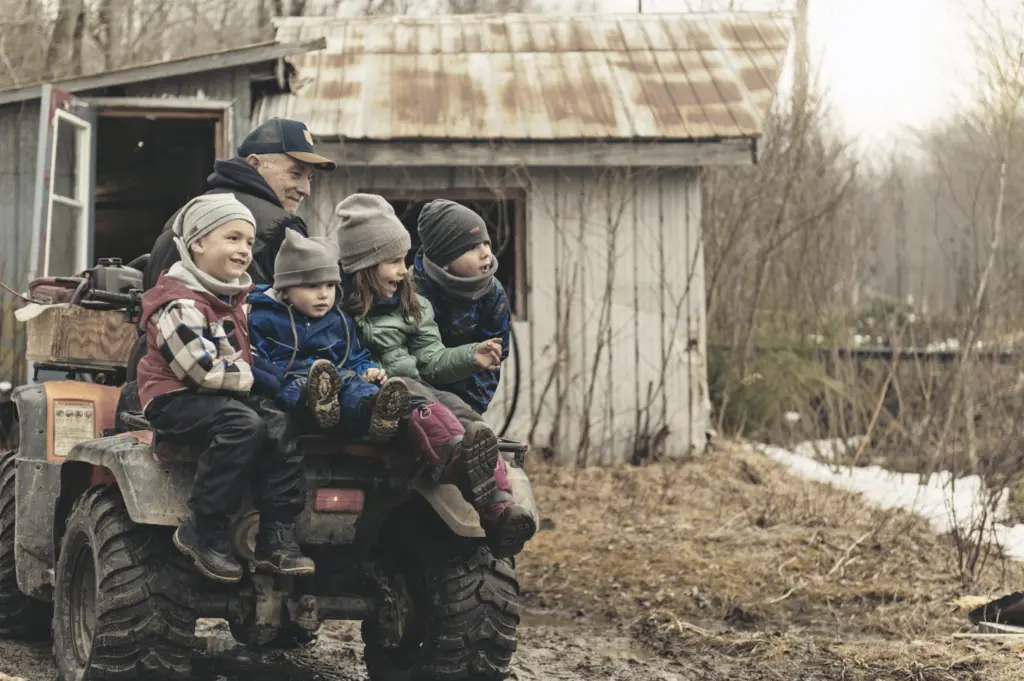 CRAFTSMANSHIP THROUGH GENERATIONS
Welcome to Millwork by Gamma, our beloved family business that's been in the making since 1953. Back then, the grandad George turned his carpentry hobby into a career right from his home workshop. He started out crafting furniture for his family home, but soon enough, friends and neighbors couldn't help but notice the effort, skill, and love he poured into every piece. That's when they started placing orders, and the rest, as they say, is history. His eye for detail isn't just a standard—it's our family tradition. It's this spirit of exceptional craftsmanship that we've held onto and passed down. Fast forward to today, and you'll find Viktor and his son, Vlad, steering the ship. They believe creativity isn't just nice to have—it's absolutely vital, especially in today's ever-evolving world. Their goal? Simple. To design and craft top-notch products that will be the heart of families' homes for years to come. Every piece we create at Millwork by Gamma isn't just a product—it's a promise of quality, tradition, and innovation that will stand the test of time.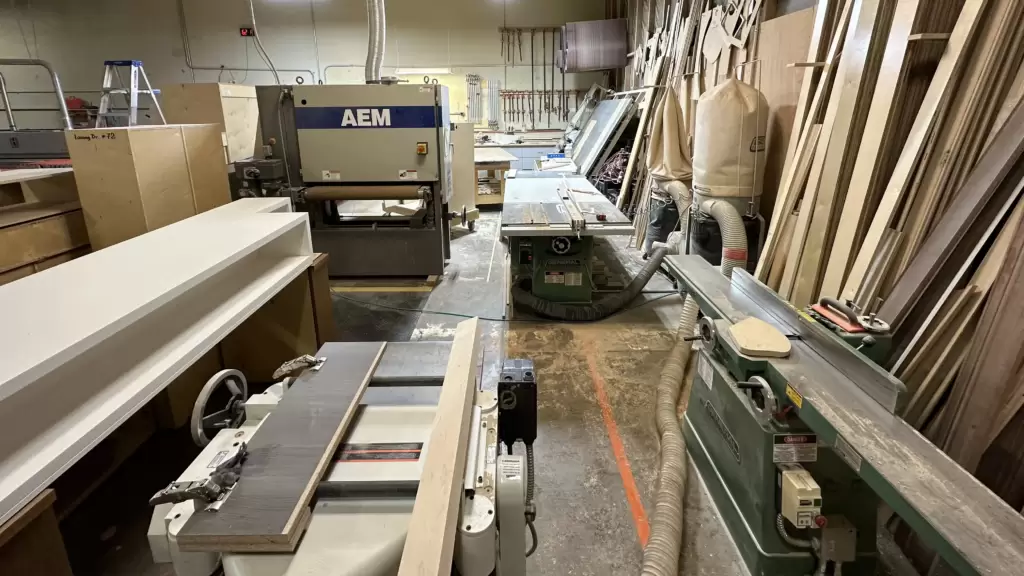 LICENSED AND INSURED
General Liability $2M+

License #1038600

Workers Compensation

Construction Bond

Car Insurance
SERVICES OFFERED
Cabinet & Millwork Design

Space Planning

3D rendering

Custom Cabinetry

Commercial Casework

Architectural Millwork
Frequently Asked Questions
Q: What are the benefits of choosing wood cabinets over other materials?
A: Wood cabinets are prized for their natural beauty, durability, and timeless appeal. They can be refinished or painted to change their appearance, ensuring longevity in design. Additionally, wood's natural grain and color variations make each cabinet unique, adding character to any space.
Q: Do wood cabinets vary in color or grain even if they are of the same type?
A: Yes, one of the unique features of wood cabinets is that no two pieces are identical. Even cabinets made from the same tree can have variations in color, grain pattern, and texture. This natural variation ensures that your wood cabinets are distinct and add a unique charm to your space.
Q: Can I schedule a visit to your wood shop to see the crafting process?
A: Absolutely! We encourage customers to visit our wood shop to get a firsthand look at how our skilled artisans craft each piece. Please contact us to schedule a tour.
Q: I have a specific design in mind. Can your wood shop accommodate custom requests?
A: Definitely! Our wood shop is equipped to handle custom projects. Our team will work closely with you to understand your vision and bring it to life. Just share your ideas with us, and we'll make them a reality.
Q: What is millwork?
A: Millwork refers to items traditionally made in a mill. This includes custom-made woodwork such as doors, moulding, trim, staircases, and cabinetry. These pieces are typically crafted for specific projects and spaces, ensuring a unique and perfect fit.
Q: Can I order custom millwork designs for my home or business?
A: We specialize in crafting custom millwork designs tailored to your specifications. Whether you have a unique architectural feature in mind or need a piece to fit a particular space, our team is equipped to bring your vision to life.
Q: Are there different materials available for millwork projects?
A: While traditional millwork primarily involves wood, modern techniques and preferences have expanded the options. Today, you can also find millwork made from materials like MDF (Medium Density Fiberboard), PVC, and other synthetics, especially for specific uses or environments. However, wood remains a popular and premium choice for its natural beauty and durability.
Q: How do I maintain and clean my cabinetry?
A: To maintain the appearance and longevity of your cabinetry, it's essential to clean them regularly using a soft, damp cloth. Avoid using harsh chemicals or abrasive materials. For wooden cabinets, it's a good idea to occasionally polish them with a wood-friendly product to maintain their lustre and protect the wood.
Q: What is the typical lead Gme for custom woodwork projects?
A: The lead time for custom woodwork projects varies depending on the complexity and size of the job. Generally, it ranges from 6 weeks to 10 weeks. We'll provide a more accurate timeline after discussing your specific needs.
Q: Why do homeowners frequently choose oak cabinets?
A: Oak cabinets stand out for their lasting strength, classic elegance, and distinct wood grain. They offer flexibility in design, suitable for both contemporary and classic styles. The inherent qualities of oak position it as a top pick in cabinetry.
Q: What materials are commonly used in modern cabinets?
A: Modern cabinets often feature a mix of traditional wood and contemporary materials like high-gloss laminates, glass accents, and metal hardware. This combination gives them a distinct look that's both fresh and timeless.
Q: Can I mix and match different cabinet ideas in my kitchen and bathroom?
A: Yes, mixing and matching can create a unique and dynamic look. You can combine traditional with modern or use contrasting colors. Our design experts can guide you in ensuring that the final look is cohesive and stylish.
Q: Can I choose the type of wood and finish for my custom cabinets?
A: One of the major benefits of custom cabinets is the ability to select your preferred wood type, stain, paint, or finish. We work closely with you to achieve the exact look and functionality you envision.
Q: Can I schedule a tour of your cabinet shop to see the crafting process firsthand?
A: We believe in transparency and love showcasing our craft. Customers are welcome to schedule a visit and see how we transform raw materials into beautiful, functional cabinets.